Exterior and Interior Rendering service
Chaii Living decorative rendering services, specialising in seamless microcement surfaces, microcement bathrooms, floors and Renovations. Traditional venetian plasters, Premium lime plasters and Unique Custom decorative surfaces and more.
Get a quote
Inspired by our coastal surroundings.
Designed, created, crafted and completed from start to finish just North of Byron Bay, 10 minutes South of the Gold Coast, QLD.
Functional Art Pieces in your home.
Chaii living is a passion driven project created with one solitary goal in mind. To bring into existence; handcrafted, appropriately priced pieces of Bespoke furniture.
In a world of Mass production, we aim to create uniquely distinctive and charasmatic pieces of furniture made in the essence of timeless beauty.
High quality, functional art, for the individual.
Order a Custom Piece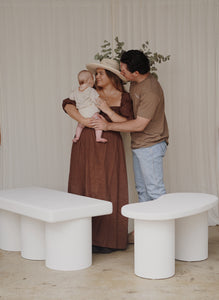 Meet the Team
Chaii living's ambitious co-ownwers Kayla and Connor are high school sweethearts destined to create a humble, family orientated small business. Chaii living is a direct product of Kayla's unique style, Connor's creative intuition, and their joint appreciation of the contribution that beautiful quality furniture can make to the comfort and energy of the home.